Evolution of Wine Glass Seminar
May 30, 2014 @ 7:00 pm

-

9:00 pm

$60
Grape Finale Presents: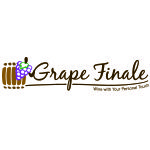 Glass expert George Muller, of Riedel – The Wine Glass Company, takes participants on a guided tour of the evolution of the wine glass. Participants will learn and experience how the shape of a wine glass influences the taste of every sip of wine.
Grape Finale handcrafted wine is transferred into an assortment of glasses to illustrate how the aromas and flavors of the wine change from glass to glass.
Seminar Includes:
A history of wine and glassware
A Riedel O Series "Key to Wine Tasting" glass set of 5 wine glasses for each participant to take home ($60 value!)
A wine tasting of four different varietals of Grape Finale wine.
Austrian crystal manufacturer Riedel is recognized worldwide for designing finely tuned drinking instruments for every level of wine sophistication.  Don't miss this unique wine tasting experience!