Row for the Record
October 21, 2016 @ 11:30 am

-

October 22, 2016 @ 11:30 am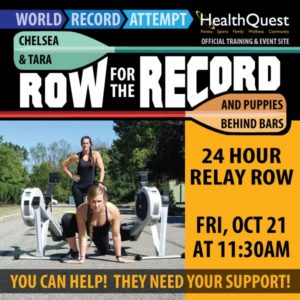 HQ Elite Trainer Tara Fisher and Fitness Director Chelsea Salisbury will undergo an unheard of task to promote our second annual Row to Recovery, an HQ program that promotes awareness for the recovery needs of military vets and other populations.
Puppies Behind Bars was selected as this years awareness cause. Tara and Chelsea will row for 24 hours in a relay format without stopping, with their sights on setting a world record.
Puppies behind bars trains prison inmates to raise service dogs for wounded war veterans and explosive detection canine's for law-enforcement. Puppies enter prison at the age of eight weeks and live with their inmate puppy-raisers for approximately 24 months. As the puppies mature into well-loved and well-behaved dogs, the raisers learn what it means to contribute to society rather than take from it. Puppies behind bars program brings the love and healing of dogs to hundreds of individuals every year. The dogs bring hope and pride to the raisers and independence and security to those that serve.
Pledge donation forms will be available around HealthQuest.  You can sponsor Tara and Chelsea directly with each meter they row, or just come keep them company and row beside them for a few minutes!
Click Here to Donate Online!