Black History Month
Celebrating Faces in Fitness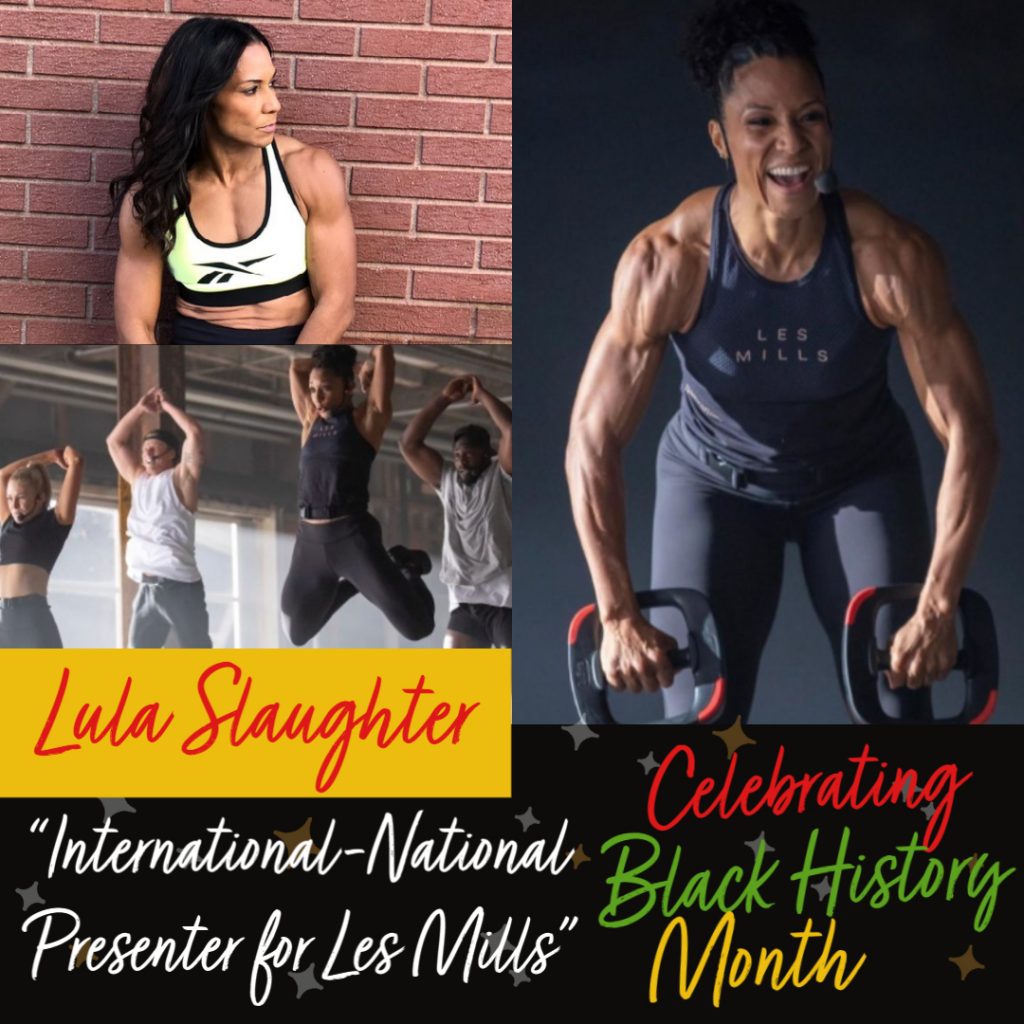 Lula Slaughter quickly went from gym member to internationally known as a top level fitness instructor with Les Mills. A SH'BAM certification was what launched Lula's interest in the fitness industry. She went on to obtain certifications in BODYCOMBAT, BODYJAM, BODYPUMP and Les Mills TONE because she'd fallen in love with Les Mills. The strength built through Les Mills programming encouraged her to become more of a gym rat, and in 2016, she competed for her very first physique competition. She competed in several shows, winning 3rd, 2nd, 1st and eventually overall in the Big Cat Classic. She worked hard at her instructor craft and secured a spot on the LMUS TAP Team as an International-National Presenter for BODYCOMBAT, BODYPUMP and Les Mills TONE. She is a National Trainer for BODYPUMP. Lula also holds a degree in Elementary Education. Currently, Lula teaches fitness classes at HealthQuest Fitness Club, is a personal trainer and owns her own healthy snack company, "Bitten.Snacks.", with fellow HQ instructor, Holly Kokinelis. She also teaches at a local elementary school and loves spending time outside and walking with her newest 4 legged buddy, Hugo Boss.

Lula is making history herself in our club and local community as the first HealthQuest Group Fitness Instructor to gain International-National Presenter status and be selected to film for Release Videos for the New Zealand based Les Mills company. She is a champion of fitness and life, and a true inspiration for us all as an important and valued member of the HQ Family and team. She has also lent her time and voice on important panel discussions and educational materials to help spread community acceptance and racial equality. As a woman of mixed race, Lula shared her thoughts on the Mulatto Perspective on Black History Month in a deeply personal and wonderfully written piece. Please enjoy that piece by clicking here.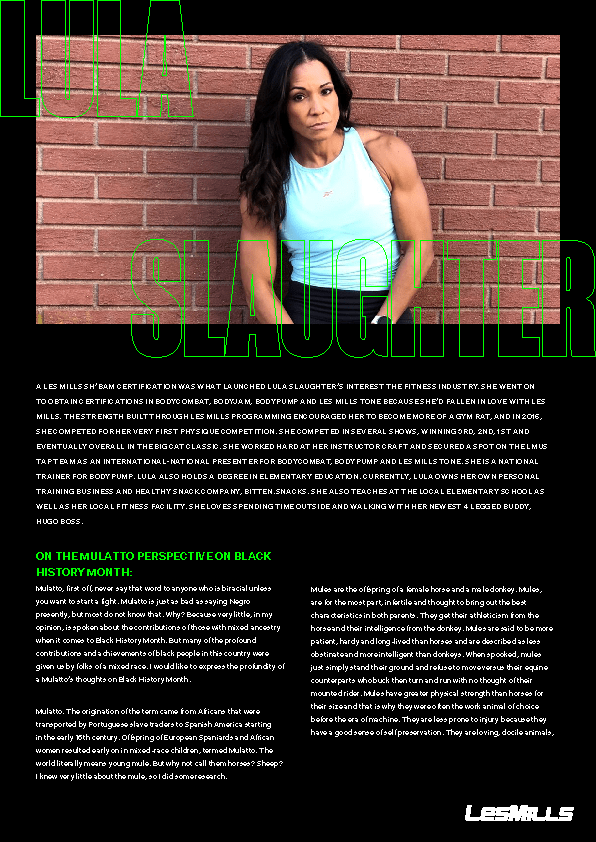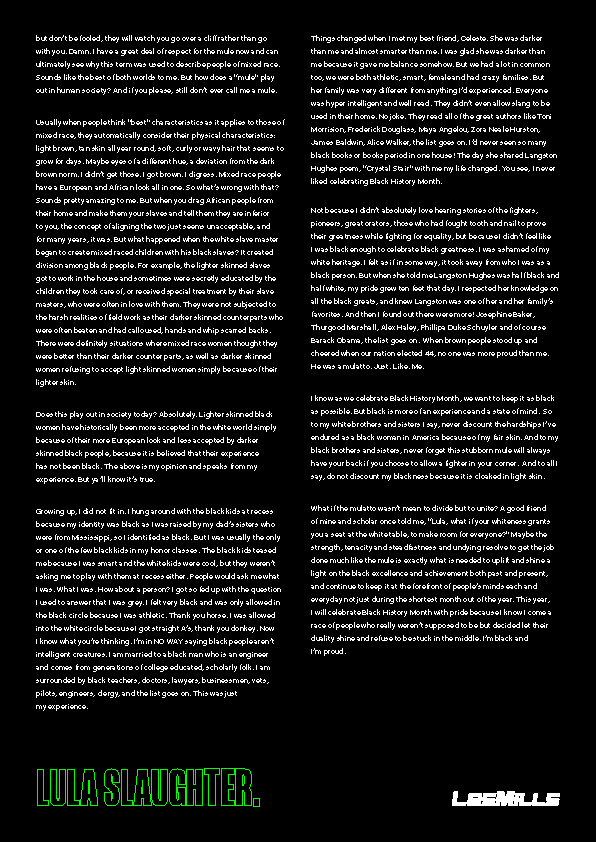 ---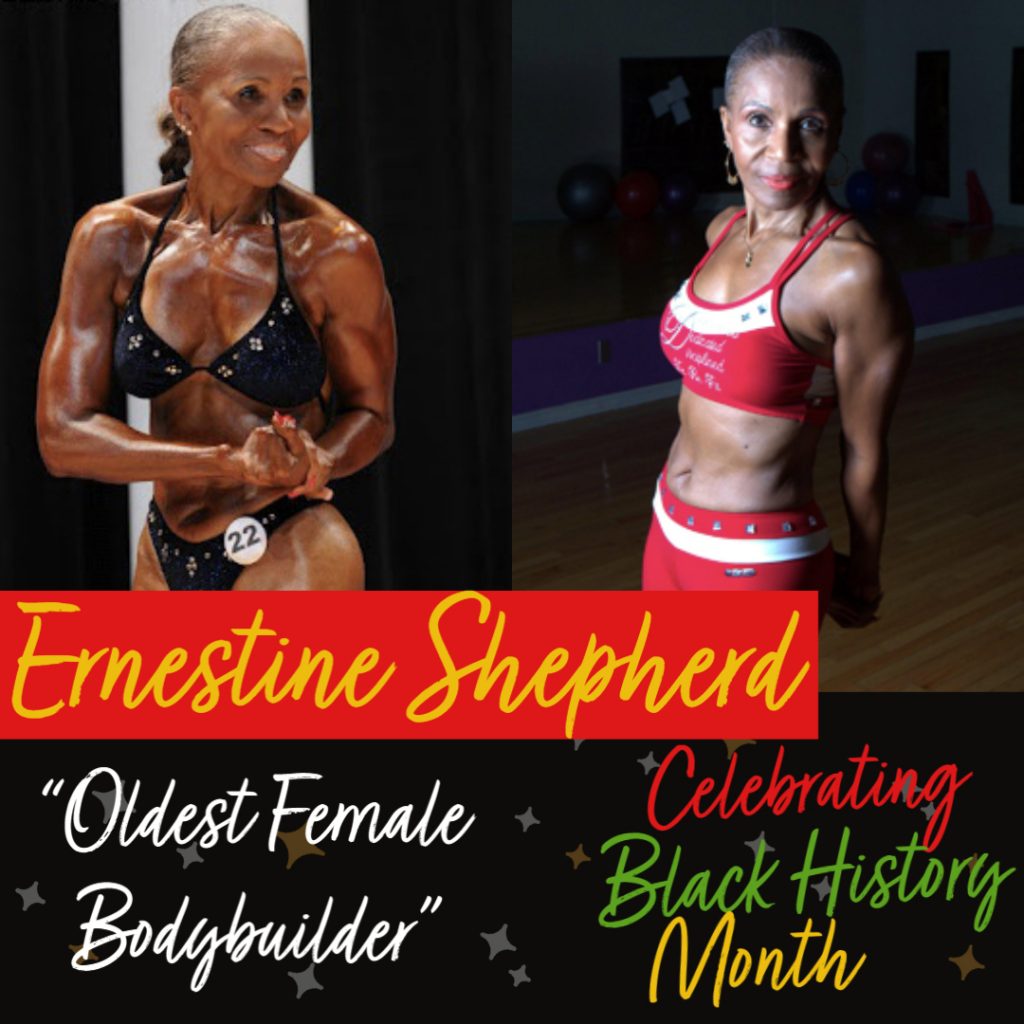 Ernestine "Ernie" Shepherd (born June 16, 1936) is an American bodybuilder who is best known for being, at one point, the oldest competitive female bodybuilder in the world, as declared by the Guinness
Book of World Records in 2010; she is now 84 years old and still an active, albeit no longer competitive, bodybuilder.

Shepherd was a model in Baltimore for years, but at age 56 she and her sister went to try on swimsuits and found their bodies were out of shape; they then started taking aerobics classes. Her sister began competing in
bodybuilding shows under the name Velvet, and Ernestine followed under the name Ernie. However, her sister died in the early 1990s following a brain aneurysm.

Shepherd carries on her bodybuilding career in part to remember her sister. Since the age of 56, she has won two bodybuilding titles, as well as run nine marathons. She also leads exercise classes for seniors at the her
church in Baltimore, and works as a personal trainer. She published a book, Determined, Dedicated, Disciplined To Be Fit, in 2016.

She appeared briefly in the 2020 musical film "Black Is King" by Beyoncé.

Sources: Wikipedia & ernestineshepherd.net
---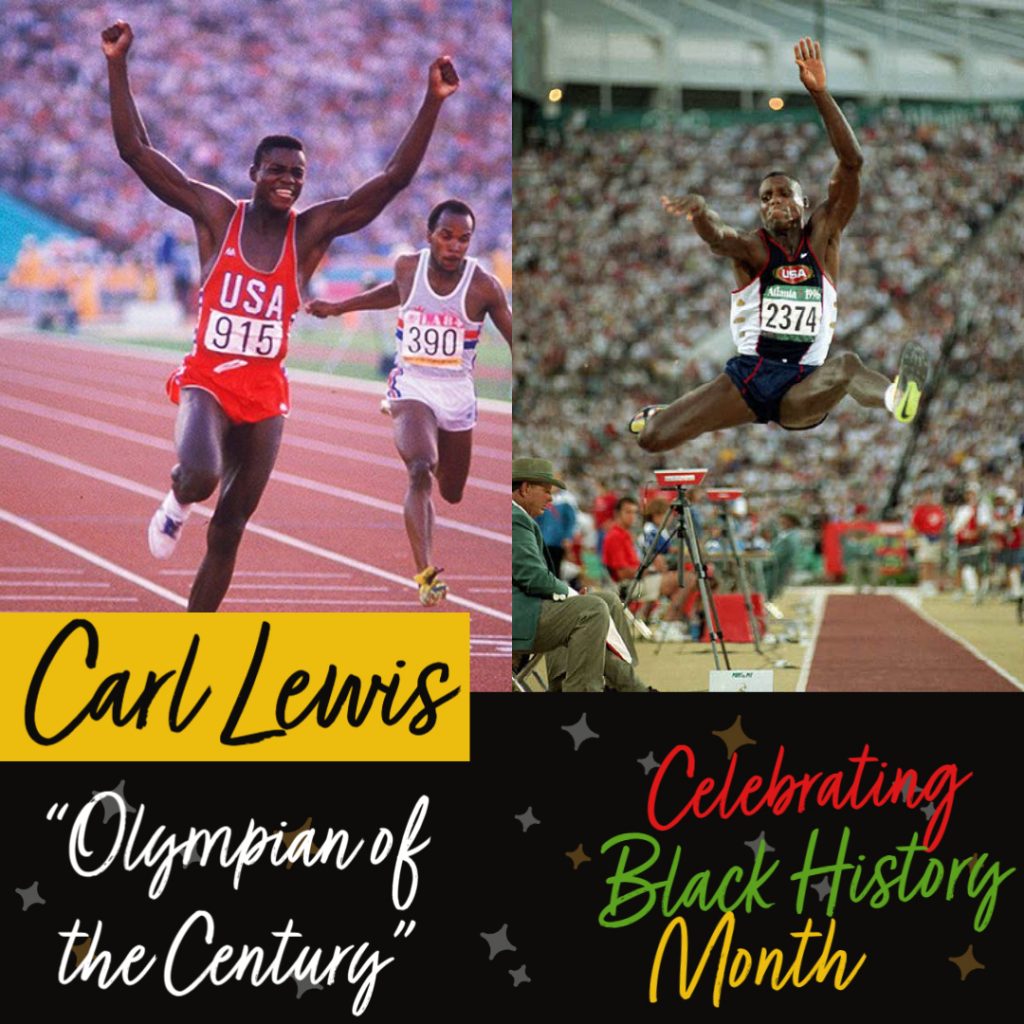 As a part of Black History Month, we celebrate one of the most decorated athletes of all time, Carl Lewis. Born July 1st, 1961, Frederick Carlton Lewis had his humble beginnings running track for his parents' owned club. He started his athletic career small for his size, but later had to adjust to such a large growth spurt that he required crutches. In his senior year of high school, Lewis broke his first record of many, the national prep long-jump. "King Carl" went on to win a total of 10 medals, 9 of them gold, throughout his participation in a record 5 Olympic Games for males. He is among good company, tying for the largest gold collection at the time. Despite his accomplishments, the NJ native was not embraced in America at the time like Magic Johnson was for basketball. Although cold and calculated, Lewis was an advocate against steroid use, which was popular at the time.

Lewis held one of sport's longest undefeated streaks of 65 consecutive long-jump victories and set the reigning world record for the indoor long-jump, as well as the 100m, 4x100m, and 4x200m events, mirroring the great Jesse Owens. During his final Olympics in Atlanta in 1996, he stole headlines as he stunned the world at age 35 with a fourth straight gold medal in the long jump. "You try to give a man a gold watch, and he steals your gold medal instead. You ask him to pass the torch, and he sets your Olympics on fire," Sports Illustrated's Rick Reilly.

Aside from his Olympic glory, Carl continues to give back greatly to the community. His self-named foundation encapsulates many charities such as the Ronald McDonald House, the Wendy Marx Foundation (for organ donor awareness), and other fitness groups for youths. Carl Lewis, to this day, is a UN Goodwill Ambassador and a coach for his alma mater, the University of Houston.

His accomplishments have led to numerous accolades, including being voted "World Athlete of the Century" by the International Association of Athletics Federations and "Sportsman of the Century" by the International Olympic Committee, "Olympian of the Century" by Sports Illustrated and "Athlete of the Year" by Track & Field News three times.
---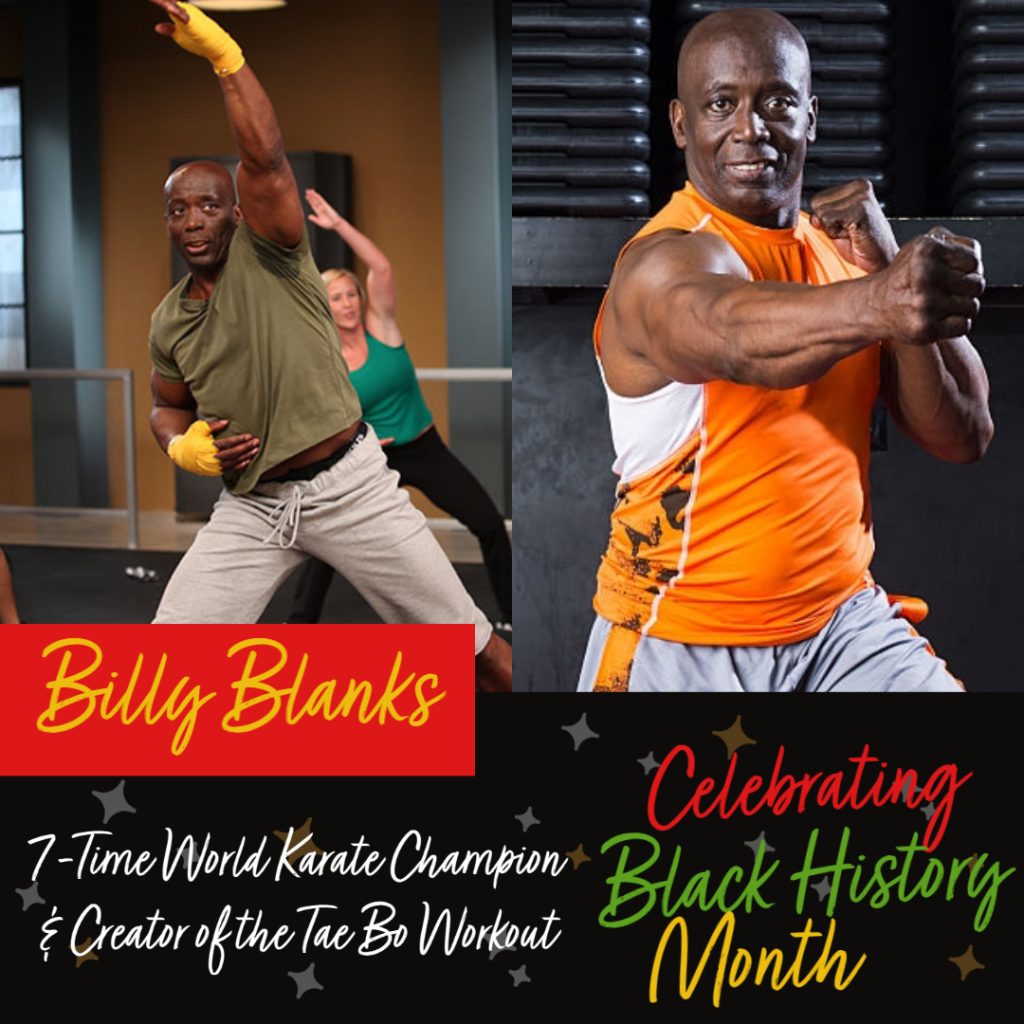 Billy Banks, helped change the face of the aerobic industry. In the 80's, the aerobic VHS world was dominated by Jane Fonda, Richard Simmons and the like. Billy Banks brought a new energy, mixing tae kwon do and boxing, making him one of the favorites for celebrities and home-fitness-lovers alike.

One of fifteen children, "Big Bill" started his training when he was 14, racking up multiple black belts and close to seven consecutive world championship wins. Despite having dyslexia and hip abnormalities, he rose to the top, collecting a cumulative thirty-six gold medals as a captain of the U.S. Olympic Karate Team, and later was inducted into the Karate Hall of Fame with over 300 total victories in 1982. The Pennsylvania native's career also veered towards the big screen, making appearances in films playing roles as the tough guy. To this day, Billy still operates his self-named training center in Sherman Oaks, California. We honor the great Billy Blanks and his achievements this February in support of Black History Month.
---
Michael Hall (born October 3, 1956) is a retired American powerlifter, who is perhaps best known for being a pioneer of the drug-free movement in powerlifting. Hall is considered the first African American Super Heavyweight powerlifter to win a World Powerlifting Championship.
Hall succeeded in setting numerous American Drug Free Powerlifting Association (ADFPA), American and National records in all three lifts, as well as the total. In addition, he won both the ADFPA and United States Powerlifting Federation (USPF) nationals several times during the same year. He was also the first superheavyweight lifter to win both the IPF and the WDFPF World Championships.

He became the first ADFPA drug-free lifter in powerlifting history under drug tested conditions to bench press over 600 pounds, squat over 900 pounds and break the 2000, 2100, 2200 and 2300 pounds total without the use of anabolic steroids". Hall is known as the "World's Strongest Drug-Free Man". He has been highly decorated as one of the leading anti-drug role models in the United States. In 1992 he appeared on a poster titled Natural Power, which is part of a campaign by the National Federation of High Schools to combat steroid and drug use. The posters were sent to 20,000 schools in the United States, reaching 11 million students.

In 1990, then-Delaware Senator Joe Biden, proposed key legislation to address steroid use among athletes and student-athletes. Biden authorized legislation to make steroids a Schedule II substance drug. Biden stated Hall was an example of how an athlete does not have to use steroids to be a champion. He said, " Mike Hall holds the current record of the most weight lifted by a drug-free lifter, a record he is proud to share with young athletes who think they need steroids to become a champion. I am proud of Mike Hall who is a native of Delaware."

Learn More