Customizing Your Fitness Plan
Developing a solid fitness program is one of the best things you can do for your health. Regular exercise can help you lose weight, increase your strength, balance and coordination and reduce your risk of chronic disease. At HealthQuest Fitness Center, we offer custom personal training services and can help you create a specialized fitness plan to meet your needs and help you reach your goals. Our experienced professionals can help you plan and reach measurable, realistic goals, optimizing your chances for success.
Working With A Personal Trainer
If you're new to exercise or need help determining the most effective way to reach your fitness goals, our experienced personal trainers can help with one-on-one training, semi-private training and group training sessions. Your personal trainer will assess your current fitness level and talk with you about your health and goals to create a customized workout routine. They also teach you how to use equipment and exercise safely while motivating you, tracking your progress and holding you accountable to your workout plan.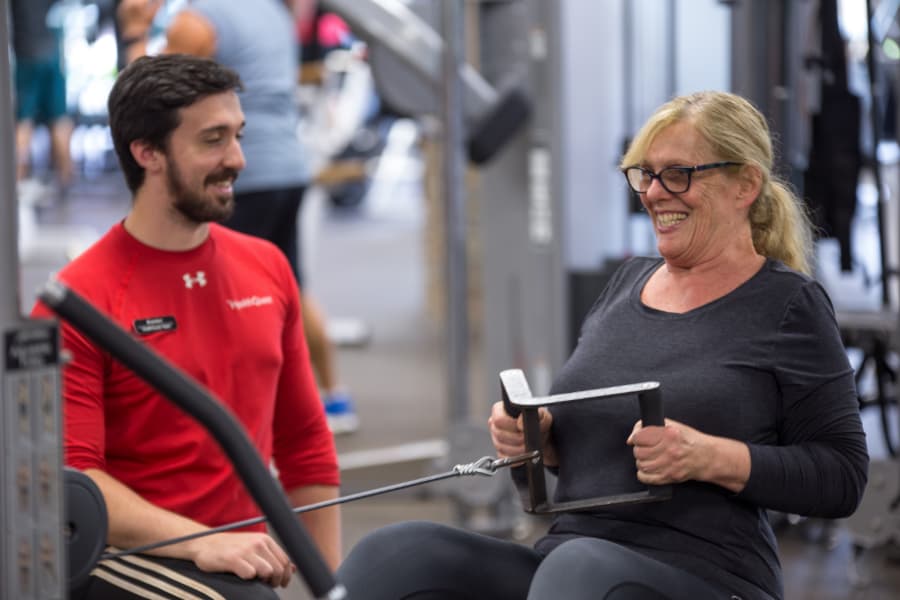 Our Facilities
Even if you only use a trainer to help you develop a plan and get started, great results can be achieved in small group personal training classes and by utilizing the wide array of services and equipment our facility has to offer.  A well-rounded fitness plan includes cardiovascular exercise, strength training and exercises that enhance flexibility. Whether you're looking to lose weight, build strength and endurance or improve your cardiovascular health, we offer a large selection of equipment and classes to meet your needs.
Preva Studio: The Preva Studio is one of HealthQuest's two state-of-the-art fitness centers. Entertaining and motivating, Preva is state-of-the-art software that gives you the ability to personalize your fitness experience and track your fitness progress with on-console software or on-the-go with the Preva Mobile App. Find new workouts, save the ones you love, set goals, track your progress and more with this amazing customizable app and equipment.
Fitness Center: Our fitness center offers state-of-the-art equipment that gives you a variety of options to meet (or exceed!) your personal fitness goals. Our modern facility's carefully chosen equipment, such as our Life Fitness Discover Treadmills, Hammer Strength Power Racks and Iron Grip Dumbbells, help you push your limits and reach your fitness objectives while having fun in a supportive, welcoming environment.
Group Fitness Classes: From Pilates to MyRide indoor cycling, we offer more than 150 group fitness classes that can help you build strength and flexibility, firm and tone your body and improve your cardiovascular health.
Indoor & Outdoor Pools: HealthQuest boasts an indoor pool that is 25 meters long. Our six lap lanes are always warmed to a comfortable 84 degrees and are great for laps, lessons, group fitness classes, recreational swim and parties. During the summer months, our outdoor pool is the perfect place to relax and enjoy.
Martial Arts Academy: We offer specialized martial arts classes for adults and children that accommodate the beginner and experienced martial artist alike, including ITF Taekwon-Do, Aikido, Tai Chi, Judo and Brazilian Jiu-jitsu.
Contact Us To Learn More About Custom Personal Training & Fitness Plans
At HealthQuest, our experienced and dedicated staff can help you create a customized fitness plan that empowers you on your journey to optimal health and wellness. To learn more, contact us online or call HealthQuest Fitness Center at 908-782-4009.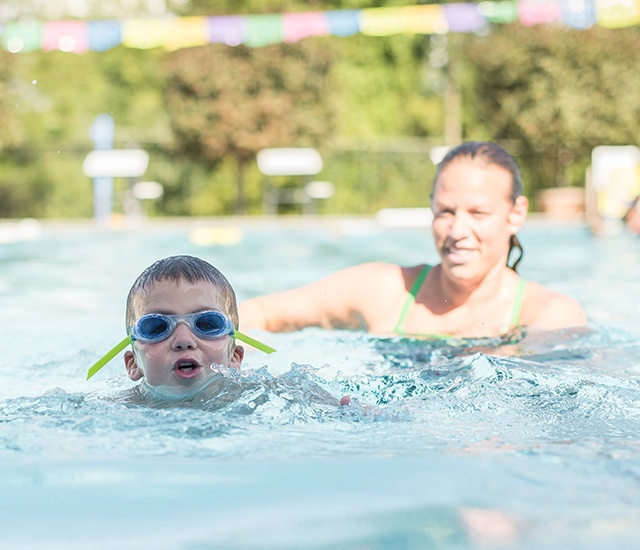 HealthQuest offers swim lessons for all age groups from parent and child to advanced teen. Our lifeguards are American Red Cross certified in lifesaving, CPR/AED and First Aid. All swim instructors are also certified in CPR and first aid. Instructors are required to pass the HealthQuest Swim Instructor Training Program prior to teaching classes.