Flemington, NJ, Area Fitness Center Track
A fitness center track provides a measurable way to build up your fitness level. It's measurable because you know the length of the track when you start running, jogging or walking. So, when you complete each lap, you're able to calculate how much distance you've covered. With the indoor track at HealthQuest, you enjoy beautiful views and an even surface without heading out into the elements.
In addition to the track area, HealthQuest offers a variety of other fitness-based options. For example, our facility contains a fitness training area, a cycling studio and a group fitness area where classes are held. Swimming pools, a Pilates studio and weight training areas are also part of our standard offerings.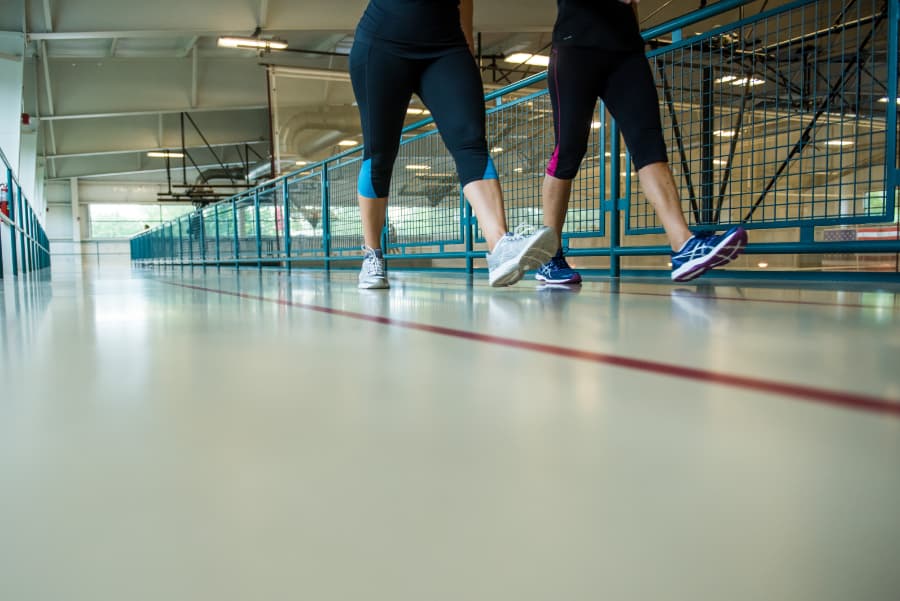 Our Indoor Fitness Center Track
The indoor track at HealthQuest measures 0.10 miles in length, so you know each time you complete 10 laps, you've mastered another mile. Fitness walkers, runners and joggers are welcome in this area, so you're able to hit it at your own speed.
The track is oval and has widened corners that don't interfere with passing. This feature lets everyone enjoy the track at their own pace. The track is surrounded on three sides by walls of windows, allowing for views of the Huntington County countryside, the HealthQuest outdoor campus and our outdoor pool.
The Basketball Courts
The indoor track passes above the basketball courts at HealthQuest. During a walk or run, you're able to look down at the courts to check out the games below. The courts are set up as two smaller courts divided by a curtain for practice, drills and our programs. However, the curtains can be left open to create one large court.
The basketball courts provide a place to learn how to play, practice your skills or join a league for competition. Our basketball courts are also available for rent if you need a place to host a sporting event.
Parisi Speed School
The Parisi Speed School is one of our sports academies, and it's located below our indoor track. This sports academy is offered as an additional amenity for our members, and nonmembers also have the option to sign up to use the services of this sports academy.
The sports academy focuses on helping each participant become a better athlete. Benefits of attending the Parisi Speed School include:
Enhanced agility, better balance and better coordination
The ability to run faster and keep running longer
Increased strength and the ability to jump farther
Reduced susceptibility to injury and faster recovery when an injury occurs
Gymnastics Training Center
The HealthQuest Gymnastics Training Center is the remaining area that's below the indoor track. The Gymnastics Training Center provides qualified professionals to teach youth about recreational gymnastics. The area is set up to provide a safe environment for children to learn.
Advantages provided by the Gymnastics Training Center include the development of physical abilities and the chance to learn about life skills. The social skills children develop through our gymnastics training programs help them develop friendships that last. Gymnastics training is based on your child's age, so they are learning, and eventually competing, with children of their own age group.
Contact Us Today
The team at HealthQuest is here to partner with you on your journey to better fitness. Call us today at (908) 782-4009 to speak with someone about our facilities and offerings. Our online contact form is also available if you would like to leave your contact information and comments so someone can get back with you. We respond to all queries as quickly as possible.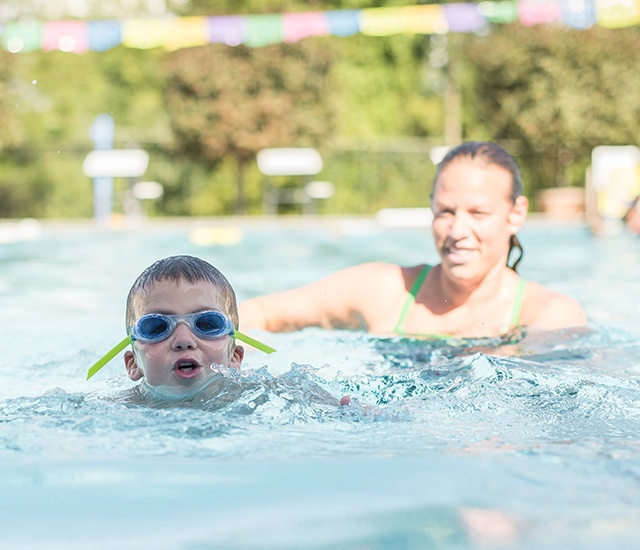 HealthQuest offers swim lessons for all age groups from parent and child to advanced teen. Our lifeguards are American Red Cross certified in lifesaving, CPR/AED and First Aid. All swim instructors are also certified in CPR and first aid. Instructors are required to pass the HealthQuest Swim Instructor Training Program prior to teaching classes.