by Darrell White
Celebrating 4 years of living with Type 1 Diabetes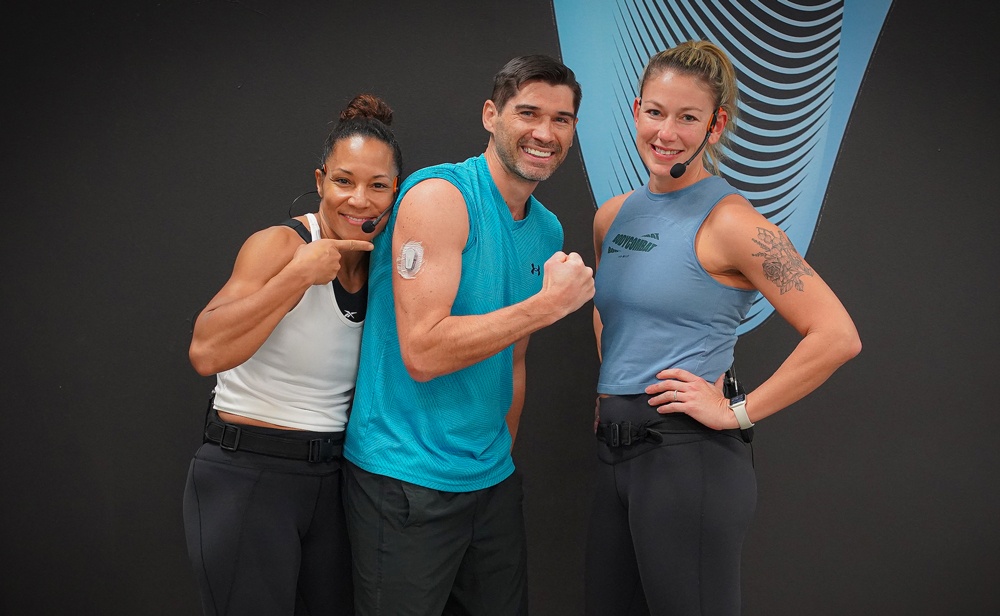 On Dec 12, 2006, my identical twin brother, Jason, lost consciousness behind the wheel of his car and ran off the road into a tree. Thankfully nobody was hurt, but the car was totaled. The emergency medical team found he had a dangerously high blood sugar level of 714 mg/dL. When blood sugar levels reach 600 or more, the condition is called diabetic hyperosmolar syndrome and can lead to life-threatening dehydration and a diabetic coma [1]. The doctor called him 3 days later on our 27th birthday to tell him his A1C was off the charts at 13.1% and he was diagnosed with diabetes.
My twin and I grew up in a very active family, enjoying many sports and outdoor activities. We were always fit and healthy, so the thought of diabetes was not on our radar. Eventually the doctors classified Jason as a type 1 diabetic (type 1 diabetes is formerly known as Juvenile Diabetes, and can develop at any age), and I learned I had a 50% risk of developing it as well because we share the same DNA. I was told to get my A1C tested every 2 years.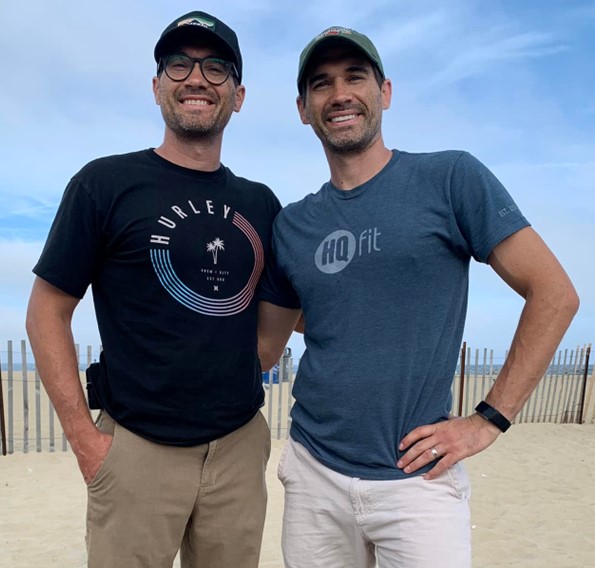 What is an A1C test and why is it important?
The A1C test—also known as the hemoglobin A1C or HbA1c test—is a simple blood test that measures your average blood sugar levels over the past 3 months. A normal A1C level is below 5.7%, a level of 5.7% to 6.4% indicates prediabetes, and a level of 6.5% or more indicates diabetes [2]. Research shows a strong link between high A1C levels and very serious diabetes complications, including [3]:
Coronary artery disease
Heart attack
Stroke
Vision complications (glaucoma, cataracts, retinopathy, macular edema)
Blindness
Diabetic neuropathy (nerve damage)
Kidney disease
Gum disease
Again, the higher your A1C, the greater your risk of developing one of these conditions. Therefore, having a high A1C can be dangerous.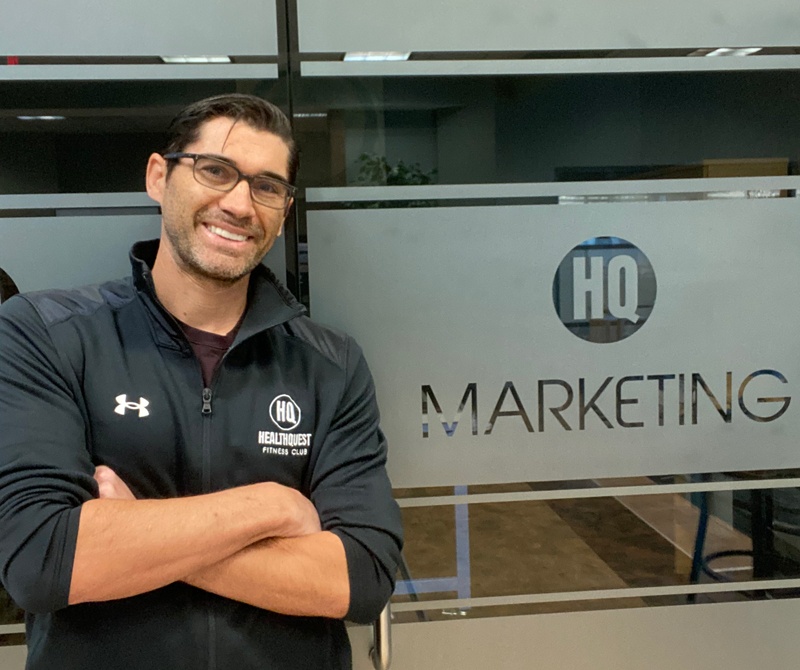 I started working at HealthQuest as a Marketing Assistant in 2003. In 2006 I started taking group fitness classes and becoming very fit and active daily. After my twin's diagnosis, I learned all the symptoms to look out for. For the next several years I was taking up to 9-11 classes a week, training for marathons, and eventually teaching classes myself. My first few A1C tests were fine, but in my early 30s they crept up and were consistently in the prediabetic range, but only exercise and healthy eating were recommended to me. After each result, I would try to eat a little healthier and make sure to keep exercising regularly.
12 Years after twin's diagnosis
In 2018 at age 38, I suffered for many months with back pain, fatigue, irritability, extreme thirst, frequent urination, and some numbness while also losing 18-20lbs without trying. I fooled myself into believing I had a back injury, and that I was just stressed and getting older. I was often too tired to exercise, and I wasn't eating very healthy, so I thought it made sense why I didn't feel or move well. I tried chiropractic care, physical therapy, stretching more, and a few other treatments, but nothing seemed to work. I eventually scheduled a checkup with my doctor about my back pain and asked for my normal A1C test while I was there. The next day on November 16th the doctor called, and I'll never forget the somber tone in her voice. She told me I have diabetes because my A1C was 14.9%. She sounded in disbelief that I was still alive. My first phone call was to my twin to break the news to him that he had company in the T1D club, and of course to jokingly brag that I scored higher on the test than he did. Twins are competitive usually, even over stupid stuff.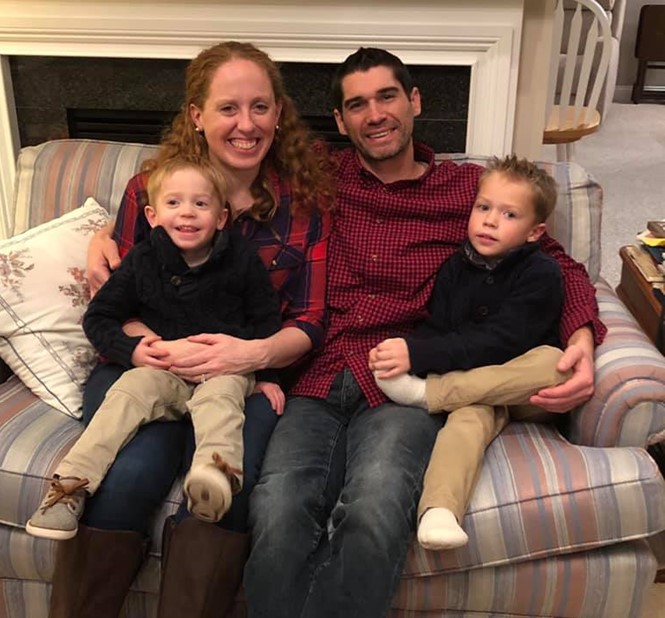 Types of diabetes
Type 1 diabetes is an autoimmune disease where the pancreas stops producing insulin—a hormone that allows the body to get energy from food. Its onset has nothing to do with diet or lifestyle.
With type 2 diabetes your body doesn't use insulin properly—which is known as insulin resistance. As a result, your pancreas makes extra insulin to compensate, but over time it is unable to keep up [4].
Currently, no one knows how to prevent type 1 diabetes and there is no cure.  Several advances in treatments to delay the onset of type 1 diabetes are showing some promise, however type 1 diabetics may require daily insulin injections for the rest of their lives.  Risk factors for type 1 diabetes are not as clear as for prediabetes and type 2 diabetes. Known risk factors for type 1 diabetes include:
• Family history: Having a parent, brother, or sister with type 1 diabetes.
• Age: You can get type 1 diabetes at any age, but it usually develops in children, teens, or young adults.
Accepting a new reality
Even with a T1D twin I didn't know the daily struggle or hardships involved. After 11 months of worsening pain, symptoms and failed treatments, the uncertainty and mystery became troublesome. Being a lifelong athlete and active person working in the fitness industry, I was faced with self-doubt that I would ever enjoy an active life again. I began praying for an answer to my ailments and desperately asking God to let me feel again what it was like to play with my kids, walk up the stairs, play sports and exercise again. When I was called and told I have diabetes, there was admittedly a great deal of fear and questions. This was life changing news, and I didn't know how to fight it. Within days I remember walking for hours alone and praying to God to help me keep putting one foot in front of the other. I also quickly began thanking God for answering my prayers. I had been asking for an answer, a name to my problem, and with it a path forward.
I've said from the beginning I'm blessed to learn I have T1D and share this journey with my twin brother who supports me and helps me understand it. I'm glad to know what was causing my condition and how to reduce the symptoms or pain. I'm lucky to survive 11 months undiagnosed and not put anyone in harm's way as I drove daily with my wife and kids in the car. After my twin's accident, I'm thankful not to learn my diagnosis following a tragic event as well. I'm fortunate to work at a health club and believe in an active lifestyle with healthy nutrition and fitness at the center. The support from my co-workers and the members there has been amazing as they root for me every step of the way. 4 years later, my A1C is down to 6.2% and still dropping. My wife and kids are my biggest supporters and I'm so grateful to be able to play with my kids, run and exercise regularly… only now I appreciate it and enjoy it on another level.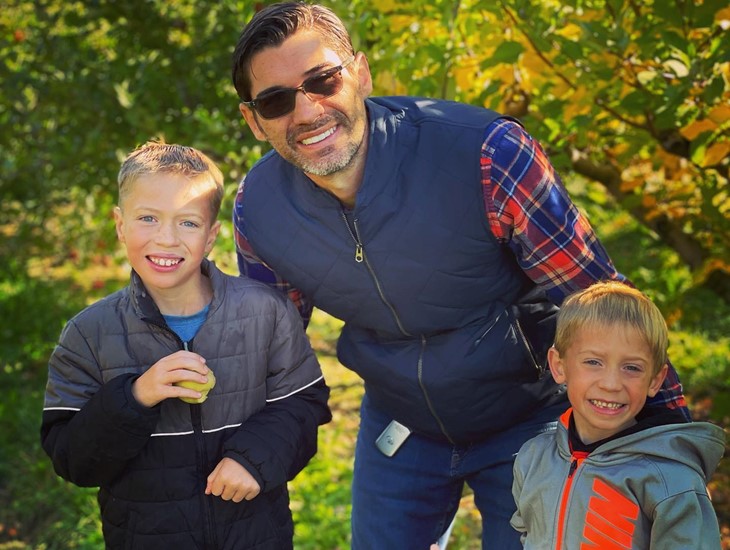 Learning to manage
I now wear a Dexcom CGM (continuous glucose monitor), which tells me my estimated blood sugar level. It gives me a data point every 5 minutes and shows me if my blood sugar is headed up, down or holding steady. This has been a true game changer for me as I learn to make healthier choices and manage my food and insulin calculations. It helps me learn how my blood sugar is affected during exercise without pausing to do a finger prick test. I can look at my data and notice patterns before and after meals, as well as overnight while I sleep. At the end of the day around 5pm, I can look in my app to see how I'm doing that day to keep my blood sugar in range. More than keeping my A1C down under 7%, my doctor wants to see my blood sugar kept in range around 80% of the time or more.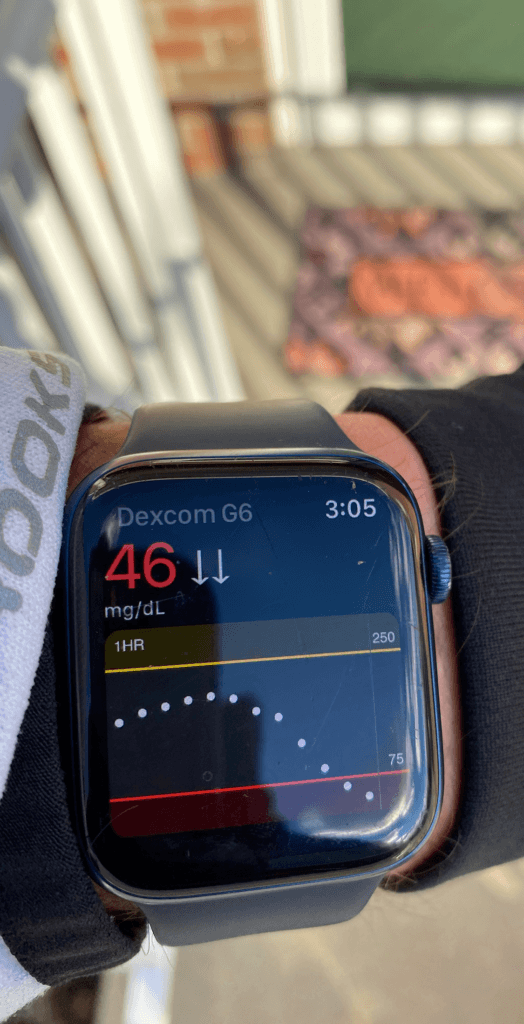 I've experienced many highs and lows with my diabetes (pun intended). Usually, I followed up a good day with a bad day or I struggled to put several good days together in a row. I've always thought of myself as having an even-keeled personality. I don't like roller coasters, especially emotional ones. The last 4 years have been filled with humbling experiences as a I learn that I cannot control my diabetes. There are many variables that can affect my blood sugar, and the best I can hope for is making good decisions to manage it.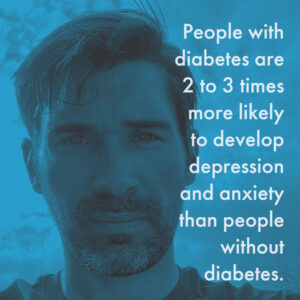 There are times that I feel like I've lost control or failed, and that is challenging to deal with. People with diabetes are 2 to 3 times more likely to have depression than people without diabetes. Only 25% to 50% of people with diabetes who have depression get diagnosed and treated. But treatment—therapy, medicine, or both—is usually very effective. And without treatment, depression often gets worse, not better [5].
Taking charge of my care and fitness
The important thing I tell myself is that little successes lead to big successes. I strive to live each day at a time, looking to reach my in-range goal, and learning lessons from when I don't. Recently in September of 2022 I started taking group fitness classes again, just 2-3 per week. Since doing so, I've been hitting my daily goal of 80% in range more frequently and am now consistently over 90% in range nearly every day. Exercise helps to lower my blood sugar and lower my need for insulin. Sometimes when I'm in BodyCombat class, I stand up front close to the mirrors and visualize myself literally fighting my diabetes, giving my all to knock it out.
November is National Diabetes Awareness Month and I'm challenging myself to run or walk 100 Miles in the month to prove to myself I can still do great things if I commit to it and remind myself that I'm blessed to even have the chance to try. The T1D Cure 100 Mile Challenge appealed to me because the thought of it 4 years ago would've been impossible. T1D is a daily grind to live with, and sometimes a minute-to-minute grind. 100 is the number diabetics aim to be at with their blood sugar level as much as possible. 100 is a percentage of time in range we strive and pray to be in. 100 is the effort we give to fight this disease on our best and worst days.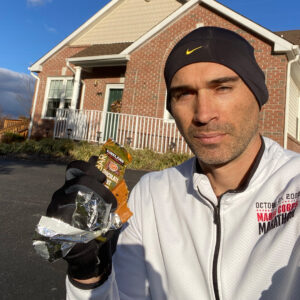 When I pull up my Dexcom Clarity app and see I'm on a good streak of consecutive days hitting my in-range goal, it gives me motivation to keep the streak going. Recently I hit a personal best of 14 of 14 days reaching my goal and it felt great. The next morning my app read 13 of 14 days, and that feeling was diminished. I had a taste of being "perfect" and forgot momentarily how my Clarity app works. Each day at midnight my app resets the next day and counts it as part of my streak, however it just reads, "Not enough data available" until around 5pm later that day when it shows me a % in range number.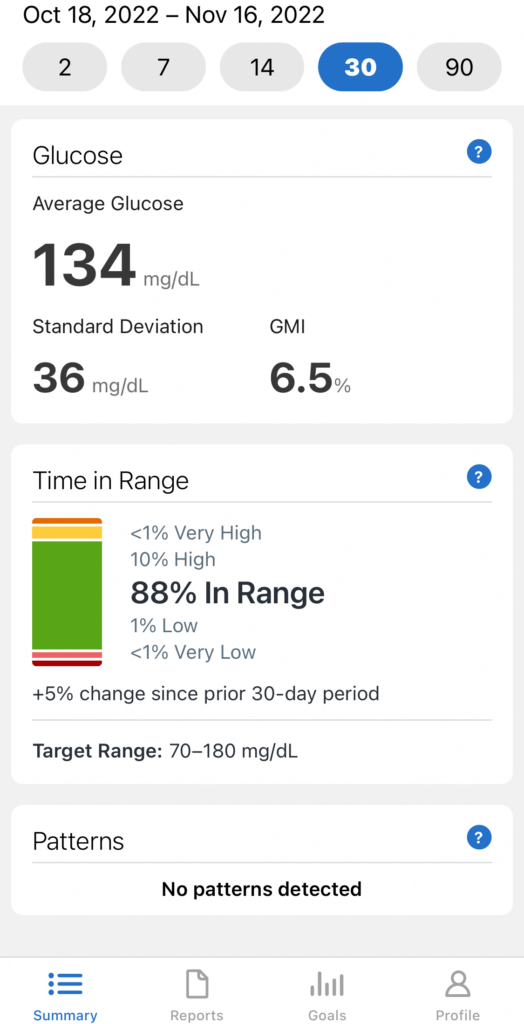 When I was hit or miss and dealing with highs (hyperglycemic) a lot, it would be a struggle to be around that 80% goal each day. I used to fear that moment when the daily reading would show, hoping my goal was still possible and I could count that day as a win. I'd start my day and feel like I was looking back over my shoulder for this number that would catch up to me. I'd worry if my dinner would throw me off, or if I could enjoy a light snack before bed and still hit my goal. I didn't want to lose ground and be passed at the finish line.
Changing my mindset
Since starting BodyCombat classes at HealthQuest and my 100 Mile Challenge, I've learned to shift my mindset, a term often used on stage by my instructors. Consistently seeing good results thanks to my commitment to exercise has helped me feel better about my diabetes management. When I run, I usually have a strong finish and empty the tank at the end. If I'm in a race, I enjoy methodically chasing down and passing others in the second half of the race.
Now every day I wake up and find myself at the starting line again. Yesterday's race is over… I have another one to run today. There are no rest days, no vacation, and no choice. My app tells me I lost the race before I even started. I can't lose… my wife and kids are counting on me to fight. So now every day I wake up with the mindset that I haven't won today yet, but there's a big difference. I no longer run the race looking back over my shoulder scared of my diabetes. Instead, I peacefully pour my morning coffee knowing it has a head start. I run much better when I'm chasing something, and now my diabetes is on the run and looking over its shoulder. Now as I sip my coffee to start my day, I confidently whisper to my diabetes "you better run… cause I'm coming for ya."
Since starting classes 2 months ago and changing my mindset, I'm now enjoying my best numbers ever. I'm not, and will never be, under control, but I'm learning how to manage better. I have 2 young boys that mean the world to me and a wife I adore. Every day I know what I'm fighting for, and who's waiting home at the finish line for me. I run my race for them.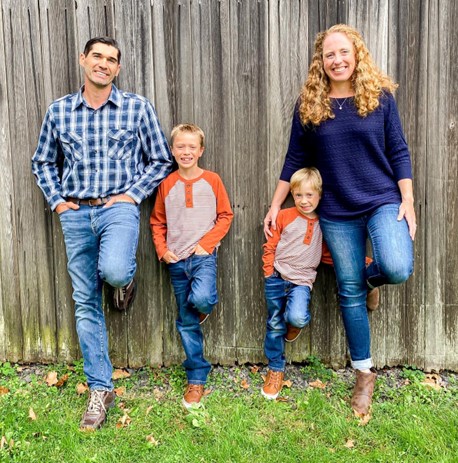 Spreading awareness
During the month of November, I've been researching and learning more about type 1 diabetes and trying to spread more awareness to others however I can. In adults, type 1 diabetes accounts for approximately 5-10% of all diagnosed cases of diabetes. According to the CDC, an estimated 40,000 people are diagnosed with type 1 diabetes each year. I was lucky to be called at home with news of my diagnosis. Sadly, many if not most learn after a very dangerous and scary incident involving a traumatic trip to the ER and a complicated treatment procedure. Patients and their families are left to feel guilt over misdiagnoses or missed symptoms that seem obvious in hindsight. Often the undiagnosed child or adult, like me and my twin, will not notice the warning signs themselves and act before it's too late. We all need to know the symptoms for ourselves and our loved ones.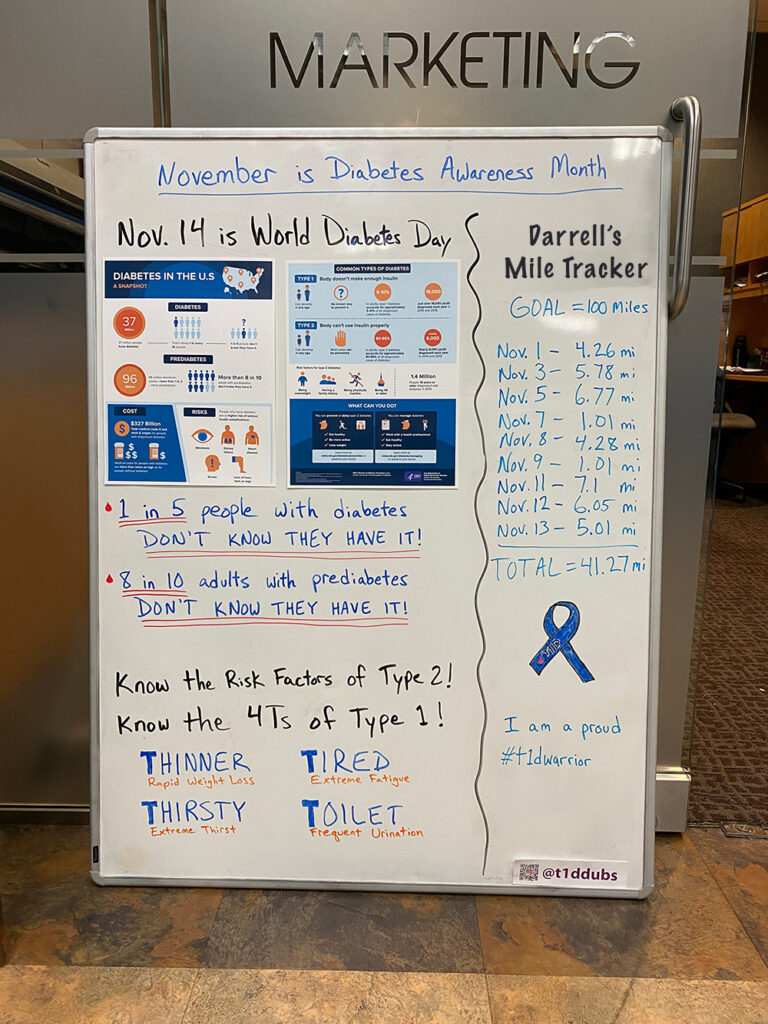 What are the symptoms of type 1 diabetes?
According to JDRF.org Type 1 diabetes (T1D) is identified in children and adults as they show signs of the following symptoms [4]:
Frequent Urination
Extreme Thirst
Dry mouth
Fatigue and Weakness
Increased Appetite
Unexplained Weight Loss
Slow-Healing Cuts
Pain or numbness in your extremities
Vision changes
Fruity or sweet-smelling breath
If you have any of the above symptoms, see your doctor about getting your blood sugar tested.
To learn more about Type 1 Diabetes, please visit the JDRF.org. JDRF is the leading global organization harnessing the power of research, advocacy, and community engagement to advance life-changing breakthroughs for type 1 diabetes (T1D).
#diabetesawarenessmonth #type1diabetes #t1dcure100milechallenge #t1dwarrior #t1dstrong #t1dlookslikeme #healthquestnj #hqfit #hqgroupfit #hqcommunity #bodycombat #lesmills #jdrf #dexcom