Most New Jersey schools are starting this week, if they haven't started already. If summer was not hard enough for Moms, the school year brings an introduction of new activities and commitments, all over the area. HealthQuest can help settle some of the new craziness. Many of our kids programs are included as part of our family membership.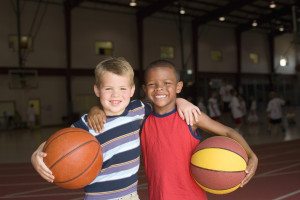 Our afterschool kids programs have a huge age range. Our gymnastics program takes children as young as 18 months. Martial Arts Classes (Tae Kwon Do and Kids Judo) start for boys and girls at age 5. With such a wide range of programming, we should have something to fit your whole family. HealthQuest has kids programs for both boys and girls, so you will save time (and gas money) by bringing a daughter and a son to the same location instead of two different places in opposite ends of town.
The best part of having afterschool activities for all ages is that moms can find time to work out! So often, moms get stuck driving the "Mom Taxi," shuttling kids back and forth. Since HealthQuest is centrally located in Flemington NJ, you can take some mom time while your kids are taking an afterschool dance class, learning confidence and self-defense in martial arts, or learning athletic and life skills in gymnastics!
The Frigiolas use Health Quest for their activities for their two sons and their daughter. Here is a quote from Mom:
"My family and I joined HealthQuest about 4 years ago. What attracted us the most was the wide variety of activities for children and adults. I'm the type of person that does my homework, so I compared, the truth is I would be paying triple what I pay for a Family Membership in order to have my kids in the same programs elsewhere. It's important to me that my family lives an active lifestyle together; At HealthQuest there really is something for everyone. The fact that I'm not spending my time driving all over the place, the gas we save and the fact that we don't have to split up as a family makes our membership invaluable to us! The value of the HealthQuest Family Membership is incredible; the convenience of having all of our activities under one roof means everything to me!"
HealthQuest has all the children's afterschool programs you could want. Most of these lessons and activities are covered under your HealthQuest Family Membership so there is no extra fee for afterschool classes. Once you take advantage of our kids programs, let us know how you like them!