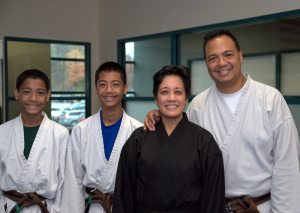 Congratulations to Melissa Berberabe for earning her Black Belt this past weekend! Melissa has been training for her Black Belt for approximately 7 years and has done an amazing job overcoming obstacles along the way.  Earning a Black Belt is a journey that takes consistent time, dedication, and perseverance.  The HealthQuest family could not be more proud of Melissa!
HealthQuest's Martial Arts Director Doug Woelfel has had the opportunity to train with all members of the Berberabe family and commented, "The entire Berberabe family trains Tae Kwon Do and are great examples of the martial art spirit.  They work hard to improve every day while remaining humble in their accomplishments. Melissa, Tony, Ethan, and Jared are a pleasure to train with, helping other students while they continuously improve their own skill sets.  HealthQuest is very fortunate to have the Berberabe's as a part of our Tae Kwon Do family."
Did you know HealthQuest is the only facility in the area to offer Tae Kwon Do, Aikido, Judo, and Tai Chi all under one roof and it's included in your membership!