HealthQuest hosted Fit for Heart Health on Sunday, February 21st with the community teaming together with an Indoor Cycling, Lifting, and Kids Running Challenge to raise over $7,000 for the Heart and Vascular programs at the Hunterdon Medical Center.  HealthQuest hosted this special event during Heart Health Month in memory of longtime employee, Tony Tierno, who passed away suddenly in 2015 due to complications with his heart.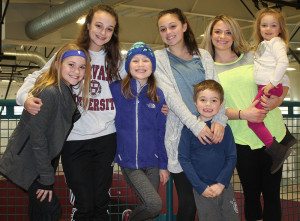 Members of the community achieved new heights by partaking in a 3-hour indoor cycling ride, a variety of weight lifting challenges, and even the kids were involved with a Kids Running Challenge.  The Kids Running Challenge held special significance to the overall event as it spawned from the HealthQuest Kids Running Club which is managed by the late Tony Tierno's wife, Lyn, who is also a HealthQuest personal trainer.  The run included the most heartwarming story of the day, thanks to the Tyler Family's participation.  Kelsie Tyler, age 4, who underwent open heart surgery in August, and supported by her family ran a mile for the cause.  Kelsie was born with a heart defect that was discovered at age 2.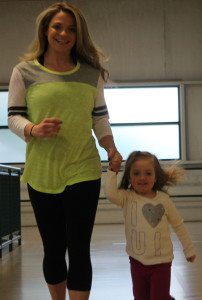 Doctors advised the family to wait to have the necessary surgery until she was a little older, which culminated in an open heart surgery in August of 2015.  Kelsie has done remarkably well since the surgery, and decided to take part in the event after her grandmother, MaryJane, found out about it through her personal trainer, Lyn Tierno.
Kelsie then rallied her mother, Laura, Brother Jake, Sister Tobey, Sister Logan, Sister Rayna, and cousin Ainsley to take part in the challenge with her.  The family expected Kelsie to walk the mile, but she took it a step further and ran with everyone!  Despite her condition, Kelsie could not wait to get home and tell her dad how happy she was to be able to run in support other kids that have heart issues.  The Tyler Family truly acted as inspiration of how to pay it forward – a great life lesson learned on a wonderful day at HealthQuest.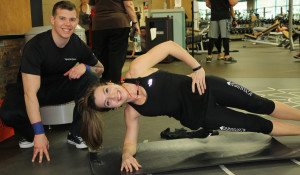 The weight lifting challenge also provided a special spotlight moment with Vanessa Jurema posting a 36 minute, 15 second plank as her HealthQuest Personal Trainer, Chad Zaengle looked on.  Top weight lifters from Fit for Heart Health were as follows:
Bench Press
Female – Chelsea Salisbury – 165lbs (1-rep max)
Male – Lito Rivera – 335lbs (1-rep max)
Leg Press
Female – Vanessa Jurema – 793lbs (1-rep max)
Male – Michael Rivera – 1,558lbs (1-rep max)
Deadlift
Male – Mark Andrews – 535lbs (1-rep max)
Plank
Female – Vanessa Jurema – 36:15 (for time)
Male – John Mastrogiacomo – 4:01.57 (for time)
Pull-ups
Female – Desiree DeMelo – 21 reps (assisted)
Male – Bill Howard – 27 reps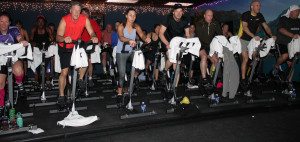 At the same time, over 40 members were pouring sweat for the cause as they tackled a 3-hour indoor cycling ride instructed by HealthQuest Group Fitness instructors Deb Arbach, Paul Marciano, Heidi Maroney, Linda Romaine, Joe Kareivis and Kathy Hale.  It was an inspiring ride that left cyclists with a feeling of great accomplishment, as well as, a little general soreness from the long journey!
Fit for Heart Health proved to be an overwhelming success with a great deal of the HealthQuest community rallying behind this ever important cause.  No other health concern affects more people in Hunterdon County than cardiovascular disease. It is the county's leading cause of death and its incidence is on the rise due, in part, to the growing number of area residents between the age of 45 and 64 – a time in life in which the onset of cardiovascular disease is most likely to occur.