Many of our members take advantage of our fitness classes and programs that we include in our club membership pricing. Did you know that we also offer competitive teams (USA Swimming Team, Q-Dynamics Dance Team, USAG Gymnastics Team) for kids? Our competitive Swim team, Competitive Dance Team, and Gymnastics team compete in the Flemington, NJ area, and sometimes travel to other areas in New Jersey to participate in events and meets.
The HealthQuest USAG (USA Gymnastics) Team is a more robust program for serious gymnasts looking to compete in USAG league-sanctioned meets, and train with the goal of eventually competing in higher-level gymnastics stages. With dedication to training as part of HealthQuest's competitive team, athletes can hope to progress to USGA levels 8, 9 or higher in the years to come. Basic beginner competition typically starts at USGA level 4 for both boys and girls.
HealthQuest's Competitive Swim Team is lead by our head coach, Jean Miller. We are excited to announce that this year, the HealthQuest team is becoming USA Swimming certified. This allows our swimmers to compete locally at swim meets across three levels, Beginner, Intermediate, and Advanced. The HealthQuest Hammerheads are holding tryouts on Wednesday September 23rd at the indoor pool. If you plan on trying out for the Hammerheads, please call the Aquatics Department to RSVP (908.782.4009 ext. 251). Jenning Fischer can answer any aquatic related questions. We hope to see you at tryouts!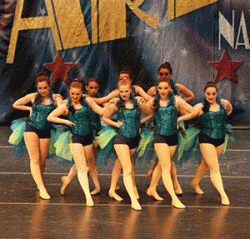 Q-Dynamics Competitive Dance Company is a competition based dance team that is lead by HealthQuest Dance Director Maryann Barraco. Q-Dynamics dance company members are versed in Ballet, Tap, Jazz, Lyrical and Hip Hop dance styles. Q-Dynamics Dance Team participates in 4 competitions per year held in late winter/early spring.                Q-Dynamics dance teams have the possibility of reaching nationals, which is held during the summer.
If you are looking to grow as an athlete, and compete as part of the HealthQuest USA Swimming Team, Q-Dynamics Dance Team, or USAG Gymnastics Team in the Flemington, New Jersey area, contact one of our team leaders today!