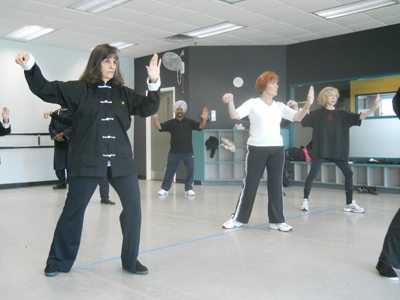 The community is invited to attend World Tai Chi & Qigong Day at HealthQuest at 310 Hwy 31 N, Flemington, NJ, on Saturday April 26th at 9:30am at the pavilion and field behind the HealthQuest building.
World Tai Chi Day is celebrated in over 70 Nations across 6 continents since 1999.  This will be HealthQuest's 4th year participating in this event.
HealthQuest uses this day to educate our community to the wonders of Tai Chi.  Tai Chi is believed to; Boost the Immune System.  Slow the Aging Process.  Lower high blood pressure.  Reduce the incidence of anxiety, depression and overall mood disturbance, and Tai Chi is proven to be the most effective balance coordination in the world.
All are welcome, beginner, advanced and the curious.  Forms and Workshops starting at 10:00am.  Learn about Tai Chi & Qigong at this free event.  Participate and enjoy.
For more information call 908-782-4009 ext. 238 or e-mail martialarts@healthquest-fitness.com