Article by Rick Epstein / Hunterdon County Democrat
Story originates from nj.com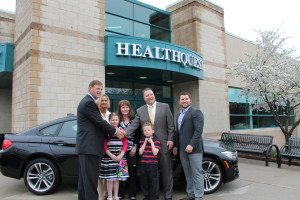 The Chludzinski family of Hillsborough can quit shopping for a replacement for their wrecked Ford Focus because they just won a $54,000 BMW from their health club, HealthQuest of Raritan Township.
Doug Chludzinski's Ford was demolished in February in North Brunswick when a school bus failed to yield at a traffic light. They were still shopping for its successor when word was received that wife Leona had won the grand prize in HealthQuest's referral contest.
At HealthQuest Monday for the big presentation, Doug laughed and said of his first-grade son, Eli: "He did tell me I better not smack this one up." All the Chludzinskis were on hand, including daughter Emily.
In celebration of the popular health club's extensive renovations, the club ran an unprecedented referral contest for its members. "Your Chance of a Lifetime" referral program ran from September 2014 through March 2015. HealthQuest put five-day passes in the hands of all its members and invited them to share the club with their friends, family and colleagues. When a referral joined, both received a month free at HealthQuest and were entered into a drawing.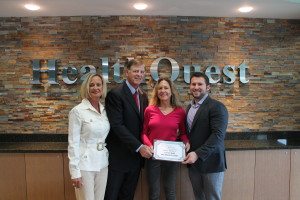 Besides the Chludzinskis' 2015 BMW 428i Gran Coupe, the other prizes and their winners are $5,000 vacation getaway, Michael Hampton; lifetime HealthQuest membership, Alex Ceruzzi and Karen Nesh; three-year membership, Frank Vargo; and one-year membership, Shannon Sklodowski.
The "Chance of a Lifetime" campaign, which brought in hundreds of new members, came to a close on the evening of Friday, April 17, with a Casino Night member-appreciation party, attended by more than 500 members. It featured casino-style games, a live band and complimentary food and beverages.