Parisi Speed School has opened at HealthQuest and we're honored to join this vibrant fitness community.  Named the #1 Gym in the US in 2015, Parisi Speed School's programs have been training athletes from 7 year olds to Pros for 23 years.  Our curriculum is designed by world renowned coaches who educate Olympic, College, Elite Military, Pro and High School coaches in developing and honing fundamental athletic abilities.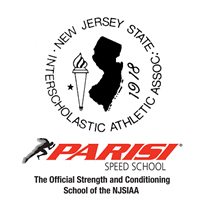 Athletic skills are the basis of any sport; they improve performance and help prevent injuries. Skills like speed, relative body strength, change of direction, first step quickness and playing endurance are technique based; Parisi Speed School teaches  these skills through a structured scientific sequence that minimizes training time while maximizing results.
Parisi Speed School at HealthQuest's owner, Joe Georgewitz, has been in the Parisi System for many years, managing  a facility that produced Championship high school teams, Olympians, and individual State Champions.  Coach Georgewitz and the Parisi staff invite you to run on over, try the Parisi training or book a free Athletic Performance Evaluation:
To schedule your free evaluation or learn how the Parisi Speed School can help your athlete, please email info@parisispeed-flemington.com, call (908) 455-1833, or stop by our desk in Court 3 of the HealthQuest Sports Center.
Schedule your free evaluation at www.parisispeed-flemington.com