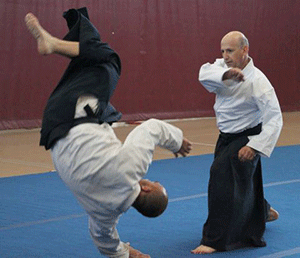 You might think that you would have to travel to Tokyo, Japan, or perhaps New York City, in order to train with one of the highest-ranking Aikido instructors in the world. Fortunately for those of us at HealthQuest in Flemington, we only need to travel to the Martial Arts Room.  There you will find Rick Goodman-Sensei demonstrating this graceful but powerful modern Japanese martial art, which focuses on effective self defense through control of the mind and body to harness ones natural energy, or Ki.
Achieving a rare mastery of martial art principles, Goodman-Sensei was recently promoted by Shuji Maruyama Sensei (the founder of Kokikai Aikido), to its highest rank, 8th Dan (8th degree black belt). This rank signifies "the elite of the elite" in the words of Maruyama Sensei, and Goodman-Sensei is one of only three people in the world to have achieved this rank.  It is conveyed not only for his demonstrated skill but also for his rare ability to instruct this most mysterious and abstract art in a way that beginner and advanced students can equally benefit.
After nearly 40 years of Aikido practice, Rick Goodman-Sensei still finds that Aikido carries throughout, and enhances, all aspects of his life.  He explains that he is "in class four times a week, but my Aikido practice informs every minute of every day while I am awake, and perhaps even when I am asleep."  Humble when describing his recent promotion to 8th Dan, he maintains that he still doesn't "feel special or strong, but I do feel more and more comfortable in what my body 'knows' ".
Speaking of his experiences with Aikido in a manner that serves to encourage students of all ages and levels of experience, he refers to discussions with his own instructor, who is now 78 and still incredibly strong in his Aikido practice.  Goodman Sensei explained that he and his instructor "speak of how frequently our growth occurs to us."  He is quick to add that, in his 50s, his instructor told him that he "would experience incredible growth and, to my amazement, just when I thought I had plateaued, I experienced frequent quantum leaps in understanding and insight that manifest themselves in my technique making it even more effortless". This experience has continued in his 60s with "ever more frequent and even greater leaps.  It continues to amaze me".  Asked to explain his progress after so many years, he says that the only thing he "can attribute this to is that I continue to come to the dojo to practice.  I continue to throw people, all people of different body types and abilities."
He encourages his students to do the same, incorporating Aikido into the fabric of their daily lives as he has done, and he welcomes others to the dojo to experience a martial art that has a profound impact on the lives of those who study it.  To his way of thinking, membership in the elite ranks of Aikido is of no value if he does not continue to grow in his practice and help others to do the same.  In his own words: "The purpose of life is to grow.  Aikido will help your life mission, whatever that is.  That is the promise Aikido holds.  Grow your life force; grow in spite of, and to overcome, your injuries; grow despite your age; grow your Aikido; grow your strength; grow your grace; grow as a spouse; grow as a parent; grow as a human being."
Although his power, grace, and talent as an instructor, are well-known to his students and the world of  the  Aikido community, HealthQuest members and others who are unfamiliar with this martial art are encouraged to watch a class and are welcome to participate in one (there are five adult classes and one children's class offered each week).  No prior martial arts experience is necessary, and the study of Aikido as instructed by one of its finest, can be a life-changing experience.