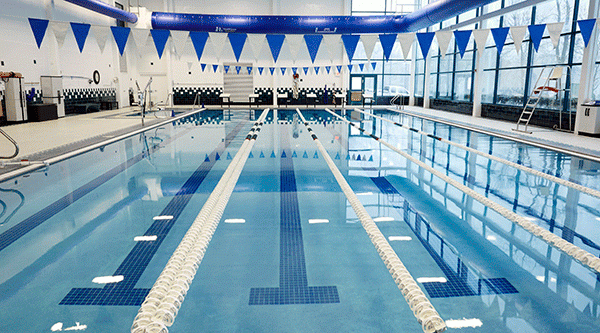 It may be the middle of December, and while the thermometer is not frozen over, there is a good bet that most of the pools in your neighborhood are closed for the winter. Not at HealthQuest! Our aquatics center is open year round for swimming and aquatic fitness. Most people don't think of swimming lessons until summer is right around the corner, but we have several swimming classes on the schedule, with some starting January 4th. 2016.
Our Instructors, Queila and Jenning have a combined 15 years experience teaching group and private swimming lessons. Both Queila and Jenning have expressed that their favorite part of teaching is "seeing the joy, excitement, and progress" in the swimming students. Jenning says that the program helps build confidence, and students express a lot of pride when they can start swimming on their own without help. She says they "Light Up!" Parents can see the progress in their children that participate in the program too.
HealthQuest also has swimming instruction for little ones. The Waterbabies program starts for infants aged 6-18 months. Parents or Guardians must be in the water with the child for the whole class. Songs and games are used to encourage social interaction and basic water skills.
For slightly older children (18 months – 3 years old) HealthQuest has a Tadpole & Me program. The "Tadpoles" are introduced to pool safety, floating, blowing bubbles, jumping and kicking on the front and back. The instructor leads a variety of games and songs to enhance aquatic skills. It's a fun time!
If you are a grownup and want to become a better swimmer, we have programs for Adults too. Many times adults have only been to a beach, and have not swum in deeper water. The Adult Group Classes focus on helping adults become comfortable in deep water and with basic forward movement. The fundamentals of freestyle, backstroke, and treading water will be taught. You'll be ready for summertime pool fun in only a couple of weeks!
Dig your swim trunks out of the summertime beach bag – the water at HealthQuest's pool is fine! Whether you or your kids are beginner or intermediate swimmers, 6 months old to 60 years old, we have a program for you to explore the water, build confidence, and dive into a new adventure!