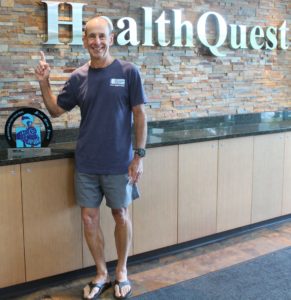 HealthQuest member Peter Turek, was the top finisher in the age group (65-69), at the Ironman 70.3 World Championship, held on September 10, in Chattanooga, Tennessee.  He completed the race, consisting of a 1.2 mile swim, 56 mile bike and 13.1 mile run, in 5 hours, 25 minutes, 5 seconds.
Participants in the Ironman 70.3 World Championship must qualify for the event at one of the other Ironman 70.3 races, which are held at various venues all around the world.  This year, the Ironman 70.3
Championship in Chattanooga, TN included approximately 3,600 competitors (1,400 women, 2,400 men), from 90 different countries, ages 18 to 85.  This annual event is considered the highest level of competition for the "half" Ironman distance triathlon.
Peter has been triathlete for more than 25 years, and he has completed more than 100 races, at all distances, in various locations throughout the world.  He has been a member at HealthQuest for more than 16 years, and has been coaching the Masters Swim program for the past 4 years.
Currently, Peter is training for the upcoming 2017 Ironman World Championship, which is held during  October each year, in Kailua-Kona, Hawaii.  Congratulations Peter….World Champion.  Good luck in Kona!