The Life Fitness equipment located in the downstairs Fitness Center and the Precor equipment located in the Preva Room each have free apps available to assist and enhance your workout experience.  If you're an avid user of either of these lines of equipment we would highly recommend these useful tools and if you tend to shy away from this new equipment, the app may be the simple kick starter that opens your eyes to a new workout experience.  Read on to learn more about the functionality of each app and how a simple download can revolutionize your workout.
LFconnect for Life Fitness Equipment
The LFconnect app allows Apple and Android devices to interact with our Life Fitness cardio and strength equipment in the downstairs Fitness Center.  The app tracks workouts, lets you access personalized workouts, provides motivation and serves as an in-workout display on cardio equipment.[youtube id="xgmivaHi6dk" width="600″ height="300″]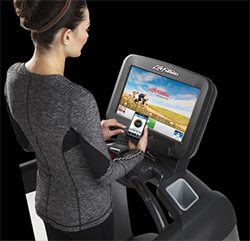 Integrate with Equipment
You are instantly recognized when you connect to a Discover console with the LFconnect app.  It's as easy as scanning the QR Code on the machine!  This provides real-time tracking and gives exercisers immediate access to personalized workouts created at LFconnect.com.  Factors like speed (treadmill only) and incline/resistance, chosen during workout creation, automatically adjust on the treadmill during a custom workout.
In-Workout Display
A smartphone can be used as a secondary display for workout feedback so that you can use the Life Fitness console screen solely for entertainment.  When the devices is switched to landscape view the LFconnect app automatically switches to an in-workout display that includes three distinct dials that show workout duration, speed and your choice of heart rate, duration, distance, incline/level, distance climbed, Watts or calories.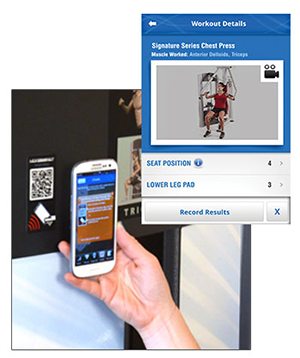 Strength Tracking
You can track strength workouts with the LFconnect app simply by scanning the QR code.  Each LF code decal is affixed to a specific equipment station and when scanned provides:
Accurate calorie calculation based on your weight, workout duration and intensity level
Recommended machine set-up based on details about the exerciser
Convenient tracking of sets, repetitions and weight amounts
An instructional video, which shows the correct way to use the machine
Weekly Workout Goals
You can set and monitor weekly goals for calories burned.  The calorie meter fills up as you get closer to your goal.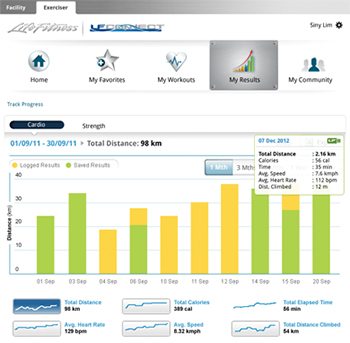 Manual Entry
Not using the Life Fitness Equipment for a particular workout?  Not a problem!  You can track both cardio and strength workout results manually.  This lets you continue to track your progress even when not using equipment compatible to the app.
Syncs with LFconnect.com
The LFConnect app automatically syncs to the LFconnect website, so you can see your total workout progress on easy-to-read charts.  The website also allows you to create custom workouts online before accessing them on your app when you're connected to compatible equipment.
Preva Networked Fitness for Precor Equipment
Preva is a fitness tracking app specifically designed to help you reach your fitness goals and is compatible with the Precor equipment in the upstairs Preva Room.  The Preva app is best used for fitness tracking in conjunction with the Precor fitness equipment but, like the LFconnect app, can also be used to track other activities in and outside the gym.[youtube id="crU5FUM88Dc" width="600″ height="350″]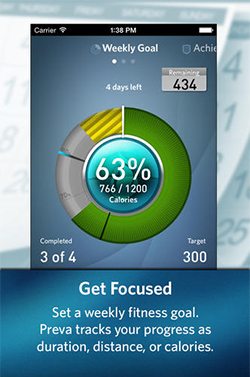 Focused
Set a weekly fitness goal.  Preva tracks your progress such as duration, distance or calories for cardio or strength equipment.  It's as easy as logging in to the cardio equipment or scanning the QR Code on the strength equipment.
Active
Stay on track and capture all of your other fitness activities on the go.  Remember, every workout counts!
Connected
Your workouts with Preva are stored in the cloud.  You can track your progress on the Precor fitness equipment and the Preva mobile app.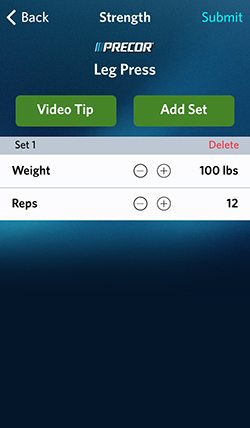 Motivated
As your lifetime totals add up, Preva will challenge you to achieve the next level.
Recognized
Preva acknowledges your hard work with badges, points, and bonuses.
If you have any questions about the either app or line of equipment feel free to approach any of our experienced and helpful personal trainers.  They will be happy to assist you or point you in the right direction!  Enjoy the technology that is at your fingertips!
Save
Save