It's October, which mean's there is a prevalence of pink around the New Jersey area! From pink cleats on the professional football field, to pink ribbon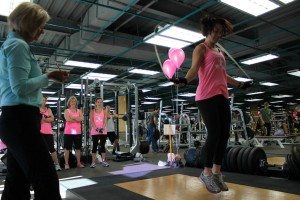 s and tee shirts worn by Breast Cancer Survivor walkers and runners, it's hard to miss. October is Breast Cancer Awareness month, so while we are always aware of our members' health, this month we are taking a special look at our female members' health and fitness.
HealthQuest has several fitness programs designed to help the women of Flemington reach their fitness goals. The two we will highlight are the Women on Weights (WOW) program, and also the HealthQuest Pilates Studio.
Pilates is a world-renowned program built on a foundation of beliefs centered on strengthening mind and body. The Pilates method is a system of exercises developed by Joseph Pilates that strengthens the whole body without adding bulk. Pilates helps to rebalance the muscles & strengthen the deep abdominal muscles that stabilize & support the spine. Pilates improves posture & reduces joint pain in the low back, neck & shoulders. In the HealthQuest Pilates program, members can expect to gain whole body balance and strength, while reducing pain and increasing flexibility, mobility, and spinal health.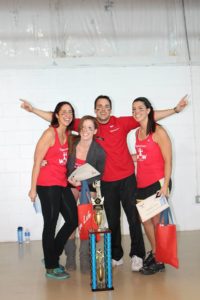 Women on Weights is a fitness program designed to bring results to female members who enjoy a social-welcoming, group setting while achieving their fitness goals. WOW groups are comprised of 3 to 4 women whom have similar goals in mind; however individuals can join already existent groups at any time!
One HealthQuest Women on Weights trainer named Adrian says one of the best parts of teaching is, "seeing the change in my students, and watching them get stronger every week." The Woman on Weights program gives students the opportunity to vary fitness routines, with exciting and new workouts. The Women on Weights program creates fitness schedule variance, which prevents both boredom, and results plateaus.
Women on Weights has an introductory course, so you can try it out before you jump in with both feet! The annual WOW Group Competition is approaching on November 21st, 2015. Find your team soon, and sign up!
This October, we are choosing to celebrate the women who make HealthQuest a hub of health and positive energy for all. Try out a complimentary Pilates demo by calling (908)-782-4009 x280, or schedule a Women on Weights intro course at (908)-782-4009 x233. You have nothing to lose, and you just might love it!